HOI UTC Johor, Johor Bahru, Johor
Insurance, Takaful & MyEG Road Tax Kiosk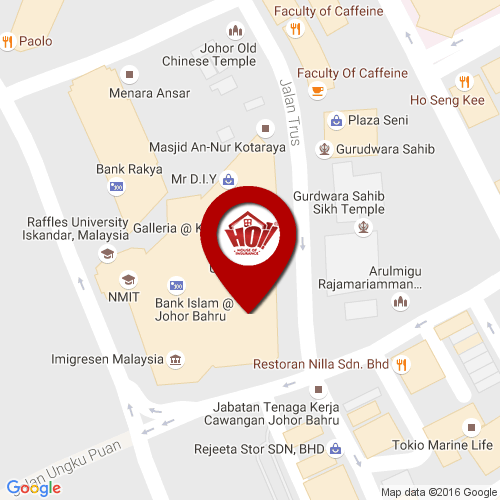 HOI UTC Johor, Johor Bahru, Johor
Insurance, Takaful & MyEG Road Tax Kiosk
L3-UTC-15, Bangunan UTC Johor, Galleria @ Kotaraya, Jalan Trus,
Johor Bahru
,
Johor
,
80000
,
Malaysia
Open Daily: 8am - 10pm

Tel: +6 0383200207 Tel2:
+6 072070017
Fax:
+6 0383200222
Click to rate this post!
[Total:

111

Average:

2.9

]
Located in the heart of Johor Bahru, Plaza Kotaraya, a five- storey podium shopping complex with a gross area of approximately 546,530 square feet, was part of the 11- acre Kotaraya Development Project mooted by Johor Corporation back in 1991.
Galleria @ Kotaraya has become a Lifestyle Mall targeting the middle market, suitable for s since its rebranding in July 2012. Covering five (5) Levels with Net Lettable area of 193,809 square feet and a total retail outlet of 179, Galleria @ Kotaraya trade mix includes a Food Hall, Fashion for Ladies and Gizmo for men as well as IT and Gadgets. The retail mix will consist as local as well as popular brands complimenting its new image.
Services
Marine Insurance
Commercial Insurance
Road tax printing
Vehicle ownership transfer*
| | |
| --- | --- |
| Monday | 8:00 AM - 10:00 PM |
| Tuesday | 8:00 AM - 10:00 PM |
| Wednesday | 8:00 AM - 10:00 PM |
| Thursday | 8:00 PM - 10:00 PM |
| Friday | 8:00 PM - 10:00 PM |
| Saturday | 8:00 PM - 10:00 PM |
| Sunday | 8:00 PM - 10:00 PM |
Brands
Nearby Facilities
Jabatan Imigresen – JIM
Jabatan Pendaftaran Negara – JPN
Jabatan Pengangkutan Jalan – JPJ
Lembaga Hasil Dalam Negeri – LHDN
Suruhanjaya Pengangkutan Awam Darat – SPAD
Suruhanjaya Syarikat Malaysia – SSM
Kementerian Sumber Manusia – JOBS M'SIA
Bank Islam
Maybank ATM