HOI UTC Perak, Ipoh, Perak
Insurance, Takaful & MyEG Road Tax Kiosk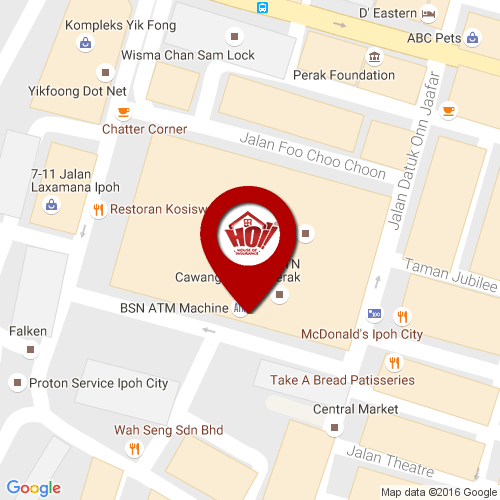 HOI UTC Perak, Ipoh, Perak
Insurance, Takaful & MyEG Road Tax Kiosk
LB09 (UTC14), Bangunan UTC Perak, Jalan Dato' Onn Jaafar
Ipoh
,
Perak
,
30300
,
Malaysia
Open Daily: 8am - 10pm

Tel: +6 0383200203 Tel2:
+6 052460810
Fax:
+6 0383200222
Ipoh is the capital city of the state of Perak, Malaysia and also the third largest city in the country. It is approximately 200 km (120 mi) north of Kuala Lumpur and 130 km (81 mi) south of Penang on the North-South Expressway. It is bordered by Batu Gajah in the west, Cameron Highlands in the east and Simpang Pulai in the south.
Ipoh's old world charm and booming hipster cafes has impressed the largest travel guide book publisher in the world, Lonely Planet, after the city was listed as one of the best Asian destinations to visit in 2016. Ipoh is the only city in Malaysia to be listed, at sixth place.
Services
Marine Insurance
Commercial Insurance
Road tax printing
Vehicle ownership transfer*
| | |
| --- | --- |
| Monday | 8:00 AM - 10:00 PM |
| Tuesday | 8:00 AM - 10:00 PM |
| Wednesday | 8:00 AM - 10:00 PM |
| Thursday | 8:00 AM - 10:00 PM |
| Friday | 8:00 AM - 10:00 PM |
| Saturday | 8:00 AM - 10:00 PM |
| Sunday | 8:00 AM - 10:00 PM |
Brands
Nearby Facilities
Jabatan Imigresen – JIM
Jabatan Pendaftaran Negara – JPN
Jabatan Pengangkutan Jalan – JPJ
Lembaga Hasil Dalam Negeri – LHDN
Suruhanjaya Pengangkutan Awam Darat – SPAD
Suruhanjaya Syarikat Malaysia – SSM
Kementerian Sumber Manusia – JOBS M'SIA