HOI Kuala Kedah, Kedah
Insurance, Takaful & MyEG Road Tax Kiosk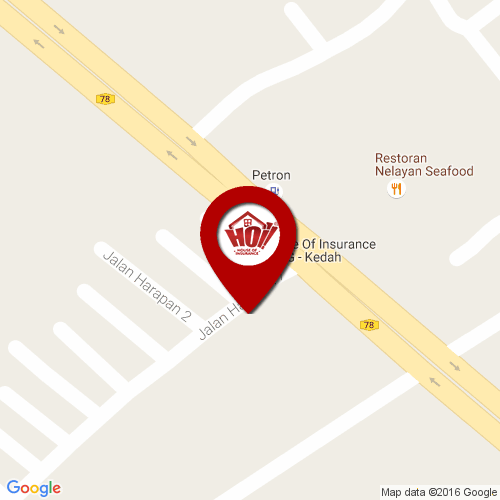 HOI Kuala Kedah, Kedah
Insurance, Takaful & MyEG Road Tax Kiosk
A – Jalan Kuala Kedah, Batu 6, Kg Padang,
Kuala Kedah
,
Kedah
,
06600
,
Malaysia
Open Sunday-Thursday: 9am - 6pm

Tel: +6 0383200204 Tel2:
+6 047626162
Fax:
+6 0383200222
Kuala Kedah is a mukim and parliamentary constituency in Kota Setar District, Kedah, Malaysia. It is a fishing port, located at the mouth of the Kedah River, and serves as a terminus for ferries to the tourist island of Langkawi. It is home to a fort, Kota Kuala Kedah, built in 1770.
Services
Marine Insurance
Commercial Insurance
Road tax printing
Vehicle ownership transfer*
| | |
| --- | --- |
| Monday | 9:00 AM - 6:00 PM |
| Tuesday | 9:00 AM - 6:00 PM |
| Wednesday | 9:00 AM - 6:00 PM |
| Thursday | 9:00 AM - 6:00 PM |
| Friday | Closed |
| Saturday | 9:00 AM - 6:00 PM |
| Sunday | 9:00 AM - 6:00 PM |